Our Papers
Read more
Read our reports and recommendations for action.
Facts at a glance
Factsheets
Our four major reports summarised
Overview
The challenge bringing six organisations together to form the Australian Business Roundtable on Disaster Resilience & Safer Communities is as such:
Natural disasters are increasing in frequency and severity, as are the costs to Australian lives, livelihoods and property.
Spending on post-disaster recovery (97%) far outweighs spending on community resilience (3%).
More investment and a broad, shared response are needed to build community resilience and reduce the significant economic costs and social dislocation caused by natural disasters.
Meeting this challenge requires navigating complex, and often opposing social, political and economic factors.
It requires leadership at all levels of government, business and community and a collective will to achieve lasting results for the nation.
The increasing cost of natural hazards
Natural disasters in Australia have caused billions of dollars worth of damage to private property and public infrastructure.
The Roundtable's report, Building Resilient Infrastructure (2016), estimates that the total economic cost of natural disasters in Australia exceeded $9 billion – or about 0.6% of gross domestic product – in 2015.
For example, the severe storms in April and May 2015 left Australia with a $1.55 billion damage bill. The storms that struck the Central Coast, Hunter, Illawarra and Sydney regions cost more than $800 million. The Anzac Day 2015 hailstorms in Sydney and the storms in south-east Queensland in April and May both resulted in losses of up to $389 million.
Meanwhile, the 2010-11 Queensland floods and Cyclone Yasi led to more than $4 billion in reconstruction and recovery costs, and insurers paid more than $3.7 billion to policyholders.
The social costs of natural disasters are also high. The Roundtable's report, The Economic Cost Of The Social Impact Of Natural Disasters (2016), shows these social costs to be at least equal to the physical costs – if not higher.
Affected individuals, communities and the environment often feel the social impact of natural disasters for many years. The report suggests the long-term economic cost of natural disasters may be underestimated by more than 50%. .
The challenge is not new to Australia
As early as 1819, Governor Lachlan Macquarie issued a general order for settlers to avoid developing in areas that were known to be flood prone. This shows just how long governments and communities have been grappling with this challenge. His general order of Wednesday 15 March 1819 reads:
"When the too fatal consequences of years has shown the Sufferers the inevitable consequences of their wilful and wayward habit of placing their Residences and Stock Yards within the reach of floods and whilst it must be still in their Remembrance, that many of the deplorable losses would have been in great Measure arrested had the Settlers paid due consideration of their own interests, and to the frequent Admonitions to remain within the flood marks of the townships assigned to them on the high lands. Those, who notwithstanding shall perversely neglect the present admonition and Exhortation to their own Benefit, must be considered wilfully and obstinately blind to their own interests and undeserving any future Indulgences." (Macquarie 1819)
What's driving the increased cost?
There are a number of factors contributing to the increased economic and community impact of natural disasters.
Population density is increasing generally, with concentrations emerging in areas prone to natural disasters, particularly coastal areas. Around 80% of Australia's population lives within 50km of the coast. One quarter of Australia's population growth is within 3km of the coastline. These population centres are exposed to some of the most damaging extreme weather events, such as tropical cyclones, storm surges, hailstorms and coastal river flooding. More property in these areas means a higher cost of damage from natural disasters.
A lack of national, comprehensive data and mapping has undermined understanding of natural hazard risk by governments and the community. This has contributed to poor planning decisions leading to property development in areas of significant risk.
Inappropriate building design and construction has been widespread, leading to a built environment susceptible to damage. Local, state and national governments have not invested adequately in strategic disaster mitigation initiatives and infrastructure.
Potential changes in climate is likely to lead to further increases in the frequency and severity of weather related losses in Australia.
Without appropriate risk assessment, mitigation and adaptation measures to offset these uncertainties, the cost of insurance is very likely to rise, with some locations becoming too expensive for consumers to bear the cost or causing some insurers to withdraw. As this occurs, governments will be called upon to cover the cost of repair and reconstruction currently met by insurers.
Investing now to reduce the future cost of recovery
Our national perspective on natural hazards has historically focussed on responding and rebuilding after an event rather than preparation and mitigation.
There is a need, however, to shift some of this focus to adapting to extreme weather events. This includes embedding a consideration of resilience in design and building planning processes to ensure more resilient infrastructure is given adequate importance in initial investment stages.
It also includes stronger building codes to protect structures from hazards, more risk appropriate use of land, better incentives for both the private and public sector to invest in resilient infrastructure and better capacity to deliver it.
To better equip our communities to withstand catastrophes, investment in disaster mitigation and resilient strategies must increase. The $27 million per annum allocated for mitigation works under the National Partnership Agreement on Natural Disaster Resilience is inadequate.
The emergency management community generally accepts that one dollar spent on mitigation can save at least two dollars in recovery costs. Australian Government spending on mitigation initiatives represents around only 3% of what it spends on post-disaster recover and reconstruction.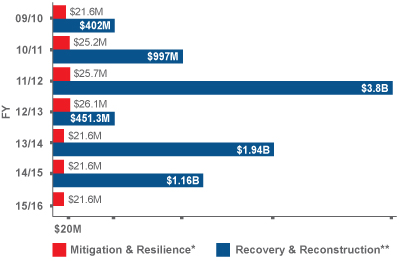 *Funding provided to States and Territories for disaster resilience initiatives under the National Partnership for Natural Disaster Resilience
**Funding provided to States and Territories for recovery and reconstruction under the Natural Disaster Relief and Recovery Arrangements.
Based on these figures, as well as the flood levy introduced to meet the cost of rebuilding Queensland, it is arguable the Government's funding of disaster recovery and reconstruction is unsustainable in the medium to long term.
Government interest and activity in the area of disaster reliance has increased. Yet the economic and political investment of all three levels of Government remains well short of what is required to seriously tackle both the existing and potential future impact.
Where mitigation investment is best spent
Additional investment is needed to fund mitigation initiatives such as:
Improved land-use planning: Commitment by Government to develop national land-use planning criteria that prohibits inappropriate land-use in Australia.
Improved building standards: Commitment by Government to improve the community's disaster resilience by modernising the Building Code of Australia to include minimum standards for the durability of property to natural hazards.
Improved community infrastructure: Recovery funds dedicated to preventative infrastructure projects including barrages for unusual tides, levee banks, sea walls, properly maintained fire breaks and access trails, improved drainage and dams.
Improved infrastructure planning processes: Integrate resilience in government and industry decision-making by adopting the five principles laid out by the Roundtable in Building Resilient Infrastructure (2016).
Improve incentives: Prioritise policy changes and funding arrangements that ensure resilience has been considered and incorporated into infrastructure planning.
Improve capacity: Work to strengthen the technical capacity of practitioners to identify, analyse and evaluate the costs and benefits of resilience options.
"There is a need for a new focus on shared responsibility; one where political leaders, governments, business and community leaders, and the not-for-profit sector all adopt increased or improved emergency management and advisory roles, and contribute to achieving integrated and coordinated disaster resilience.

"This new focus on resilience calls for an integrated, whole-of-nation effort encompassing enhanced partnerships, shared responsibility, a better understanding of the risk environment and disaster impacts, and an adaptive and empowered community that acts on this understanding."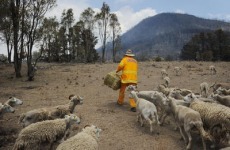 A Rural Fire Services volunteer helps feed the surviving sheep following major fires around Coonabarabran, NSW, in January 2013. The fires destroyed more than 30 homes and resulted in an insured cost of more than $35 million.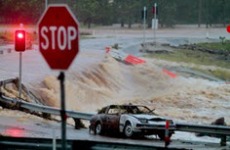 The trail of storms and severe water inundation in the wake of Tropical Cyclone Oswald in January 2013 caused more than $1 billion worth of insured damage to properties and infrastructure along the South East QLD and Northern NSW coast.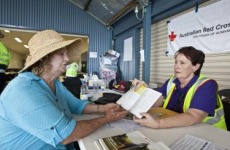 Residents of the small town of St George in Southern Queensland register at the Dalby evacuation centre with Red Cross volunteer after the area was flooded in February 2012.
Image source: Australian Red Cross/Jack Tran